Automatic School Bell System
Brand:
Navkar
Product Code:
ns- schoolbell
Availability:
In Stock
Price: Rs6,999.00
Ex Tax: Rs6,999.00
- OR -
Add to Wish List
Add to Compare
- OR -
Automatic School Bell System
High Quality ........ Branded Products Only
All us on +91-999-663-5607 / +91-941-613-5607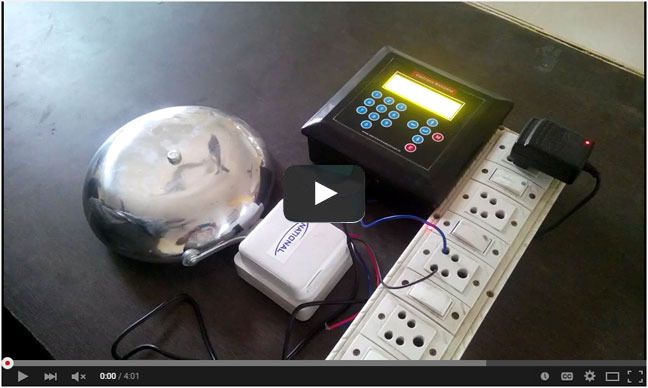 Automatic School Bell designed & developed to ring the bell at its Schedule time in School, College, Factory, Education Institute, Coaching Institutes etc. With the help of this Controller, Institution can ring the bell automatically and can control the frequency and timings through the inbuilt Software.
The controller can help you manage different types of mode like Summer, Winter, Holiday, Examination Schedule etc to ring the bell.
Features
1. 8 modes of Operation can be set (Summer Season, Winter Season, Summer Vacation, Winter Vacation, Unit Test, Examination, Special Occasion (Events, PTM etc), Holidays can be programmed.
2. 80 Bell can be programmed per day in each mode.
3. School can set different types of bell ringing types like
Continuous: ON
One Sec : ON, One Sec OFF
Two Sec: ON, One Sec OFF
Two Sec: ON, Two Sec OFF
One Sec: ON, One Sec OFF + 4 Sec ON
One Sec: ON, Two Sec OFF + 4 Sec ON
Customization Possible as per Requirement
4. Microcontroller based technology used in the system.
5. Any day of the week can be selected as weekly off.
6 Whole year holidays can be specified into the system.
7. 4 lines, 20 character per line LCD display Screen
8. No battery required to maintain clock and stored program.
9. No computers required to Program or Maintain ringing.
10. Half day can be selected in any day of the week.
11. Current Consumption: 500mA Normal to 1A Maximum.
Please do not buy if you don't know What it is & how to use it clear all doubts Before Purchase by Contacting us
Write a review
Your Name:
Your Review:
Note: HTML is not translated!
Rating:
Bad
Good
Enter the code in the box below: