Biometric Time & Attendance System Realtime T52 with GPRS Module
Brand:
Realtime
Product Code:
T52widGPRS
Availability:
In Stock
Price: Rs18,000.00
Ex Tax: Rs18,000.00
- OR -
Add to Wish List
Add to Compare
- OR -
Biometric Time & Attendance System Realtime T52 with GPRS Module
High quality Branded Time Attendance Machine with inbuilt ACCESS CONTROL+ High quality easy to use Branded Time Attendance Software FREE!! + GPRS Module + Easy Installation + No Expert Required + Free shipping + Branded Product with 1 Year Manufacturer Warranty & Bill
One Year Warranty with Customer Support Numbers
WE ARE ONLY A PHONE CALL AWAY CALL US
AT +91 - 9996635607
Mail Us at info@navkarsys.com
Whats in the Box
Biometric Finger Print + PIN Based Time Attendance Machine
User Manual
Software CD
Warranty Card with Customer Support Telephone Numbers
Battery Not Included
Technical Specification Realtime T52
Finger
1,000
Attendance Records
100,000
Display Screen
2.8" TFT LCD 320 x 240 pixel
Display Language
English
Reading Distance
Fingure Touch
Working Humidity
20 % - 80 %
Battery Backup
Optional
Operation Temperature
-10 C -+60 C
Attendance Management
Yes
Fingure Verification Mode
1:1,1:N
Fitting Height
Around 4 Feet
Access Control
Optional
Features
Color TFT Display
1000 Fingerprint
100,000 Transactions Record
Online Technical Support Via Team-Viewer
1 Yr. Manufacturer Warranty
Fast Shipping
We ship anywhere in India within 3 to 4 days after receiving payment
We ship internationally within 1 to 2 week after receiving pay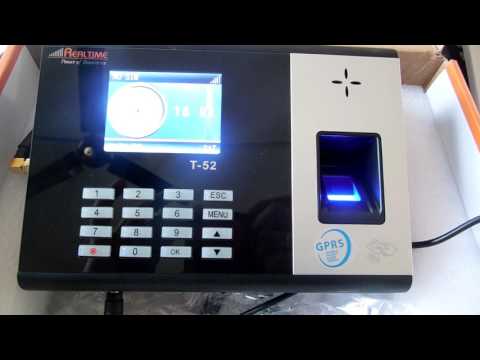 Write a review
Your Name:
Your Review:
Note: HTML is not translated!
Rating:
Bad
Good
Enter the code in the box below: