Realtime T7 Access (Smallest Access Control)
Product Code:
T7
Availability:
In Stock
Price: Rs8,928.00
Ex Tax: Rs8,928.00
- OR -
Add to Wish List
Add to Compare
- OR -
Realtime T7 Access (Smallest Access Control)
High Quality ........ Branded Products Only
Call us on +91-999-663-5607 / +91-941-613-5607
Authentication Modes: Finger +Card based / Access Control / Bell option
with 1 year WARRANTY and BILL
Easy Installation
No Expert Required
High Quality & Reliable
Branded Product with 1 Year Warranty & Bill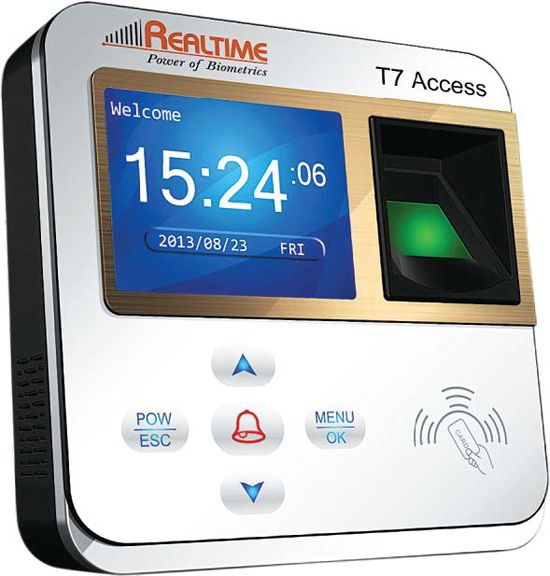 Features
• User 800
• 50000 Record
• 500 Dpi Scanner
• 9 Volt, 12 (V) working
• 103L*103W*31H
• TCP/IP,RS232/485,USB DISK
• Finger +Card based
• Access Control
• Bell option

Technical Specification T7
Push Technology (UDP)
Device Pushes real-time attendance record
LCD Screen
2.4 inch TFT (320 x 240) Color Screen
CPU
Up to 200MHZ CPU CLK and 100MHZ System Operating Frequency
Makes Faster Recognition Speed
Fingerprint Sensor Resolution
500DPI
User Capacity
800
Log Capacity
50,000 Events (Can Add up to 100,000 Events)
Communication
TCP / IP, RS485
» USB Flash Drive Upload/Download
Available
» Authentication Method
Fingerprint / ID Card
Proximity Card
RFID Card (125Khz, EM4100)
Identification Time
≤0.8s
» FRR
≤0.1%
» FAR
≤0.0001%
Operating Mode
Offline / Online
Authentication Mode
1: 1, 1: N
Voice Prompt
English
Capacity Notification
Alarm When Log Capacity is Full
Timing Bell
Built-in Timing Bell (Can Connect to the External Bell)
Access Control Interface
Wiegand 26/34, Door lock, Siren, Release button, Doorbell, Door
Sensor
Power
DC 12V/1A
Operating environment
Operating Temp: 0 C-50 C, Humidity: 20%-80%
Size of the Terminal
103(L) x 103(W) x 31(H)mm
Note:- Please do not buy if you don't know what it is, and how to use it.
Clear all doubts before purchase by Contacting Us!
Write a review
Your Name:
Your Review:
Note: HTML is not translated!
Rating:
Bad
Good
Enter the code in the box below: